Sources of retirement income
What will provide your financial fuel?
You may have as many as four main sources that provide your income in retirement. Choosing how to use these income streams is essential to making sure you are able to live the retirement you want.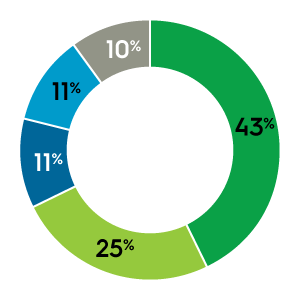 Retiree income sources: 43% Social Security, 25% Pension/Retirement Plan, 11% Employment Earnings, 11% Interest and Dividends, 10% Other
Source: LIMRA, Fact Book on Retirement Income, 2015.
Pension plans
If you're one of the fortunate 25 percent of Americans who have a pension plan from your employer,1 thank your lucky stars.
Your pension is typically a percentage of your final pay, based on your years of service.
When you retire, your plan payout options may include a monthly income stream over your lifetime, the lifetime of you and your spouse, or as a lump sum distribution.
Your decision should take into account your health, life expectancy, tax situation and overall financial strategy.
Social Security
Check out your Social Security benefits information on the Social Security Administration's website, ssa.gov. Create an account to access your secure Social Security information and gain a realistic picture at various retirement ages, which will help you evaluate when you'd like to start receiving benefits.
Consult with your financial advisor to help you explore various Social Security claiming strategies and decide what works best for you.
Remember that benefits taken before your full retirement age may be considerably reduced. And if you do decide to phase into full retirement while collecting Social Security, your benefit may be reduced or subject to income tax depending on your total household income.
Personal savings and investments
Building up your personal nest egg during your working years is more important than ever before.
Employer-sponsored retirement plan
A 401(k), 403(b) or other defined-contribution plan may provide a fundamental portion of your retirement income.
These plans typically allow you to save on a pre-tax basis while your assets grow tax-deferred. Income taxes are due when you begin taking withdrawals. Once you reach retirement age, you may also decide to roll your account balance into an IRA or an individual retirement annuity.
IRAs - Traditional and Roth
In general, you can begin taking withdrawals from your Traditional IRA after age 59½ without a penalty. At age 70½, the IRS requires you to begin taking withdrawals according to an IRS formula.
Unlike Traditional IRAs, Roth IRAs allow tax-free withdrawal once you reach age 59½, and contributions have been in your account for five years. Roth IRAs have no requirement that you begin withdrawals at a certain age.
Annuities
An annuity can also provide the benefits of tax-deferred savings and growth. Annuities can provide a guaranteed stream of income, including an option that guarantees2 you'll never outlive your income.
An immediate annuity can be purchased to create a ready stream of guaranteed income. Deferred annuities – either fixed or variable – provide retirement income later.
Investments
A diversified retirement income portfolio should include a range of investments and savings to help limit your overall risk during a potentially long retirement.
It may include:
Stocks
Bonds
Mutual funds
Certificates of deposit
Savings bonds
Real estate
Or other financial products
Employment during retirement
If you're considering supplementing your income in retirement by continuing to work on some basis, you're not alone.
According to a recent EBRI study, 67 percent of Americans who are currently employed said they intend to continue working after they retire.3
Working longer can provide both financial and social benefits – but keep in mind that you may end up retiring sooner than you had planned due to health, layoffs or other changes in your life.
Get expert help
Work with a financial advisor to identify the sources of income that make the most sense for your retirement.
Using a thoughtful approach, you can create an ongoing savings or withdrawal strategy that can help you make your money last.
Find an advisor
1 LIMRA, Fact Book on Retirement Income, 2015.
2 Guarantees are based on the claims-paying ability of the issuing insurance company.
3 2015 EBRI Retirement Confidence Survey.
This information is a general discussion of the relevant federal tax laws. It is not intended for, nor can it be used by any taxpayer for the purpose of avoiding federal tax penalties.
This information is provided to support the promotion or marketing of ideas that may benefit a taxpayer. Taxpayers should seek the advice of their own tax and legal advisors regarding any tax and legal issues applicable to their specific circumstances.
An annuity is intended to be a long-term, tax-deferred retirement vehicle. Earnings are taxable as ordinary income when distributed, and if withdrawn before age 59½, may be subject to a 10% federal tax penalty. If the annuity will fund an IRA or other tax qualified plan, the tax deferral feature offers no additional value. Qualified distributions from a Roth IRA are generally excluded from gross income, but taxes and penalties may apply to non-qualified distributions.  There are charges and expenses associated with annuities, such as deferred sales charges for early withdrawals. Variable annuities have additional expenses such as mortality and expense risk, administrative charge, investment management fees and rider fees. Variable annuities are subject to market fluctuation, investment risk and loss of principal.
Diversification is a method used to manage risk. It does not guarantee against loss.
Investments will fluctuate and when redeemed may be worth more or less than when originally invested.